VBAC is possible!
It does not mean that finding a care provider to support VBAC won't be challenging or that you might not encounter difficulties, but you can make the choice for VBAC and know that ICAN will be supporting you during your pregnancy!
---

In 2010, the National Institutes of Health (NIH) reaffirmed the same information they had shared at their landmark 1980 summit on VBAC and shared that yes, VBAC labors have a very high rate of success for most women.
NIH VBAC Consensus Statement [1]
---
In 2010, the American Congress of Obstetricians and Gynecologists (ACOG) released updated practice guidelines for vaginal birth after cesarean (VBAC). ICAN hopes ACOG's new VBAC guidelines will enable women to find the support and evidence-based care that they need and deserve. Every woman must understand the capabilities and limitations of the care provider and facility she chooses. Less restrictive access to VBAC will lead to lower risks to mothers and babies from accumulating cesareans. The updated guidelines state that VBAC is a safe and reasonable option for most women, including some women with multiple previous cesareans, twins, and unknown uterine scars. ACOG also states that respect for patient autonomy requires that even if an institution does not offer trial of labor after cesarean (TOLAC), a cesarean cannot be forced nor can care be denied if a woman declines a repeat cesarean during labor.

ACOG Less Restrictive VBAC Guidelines [2]
---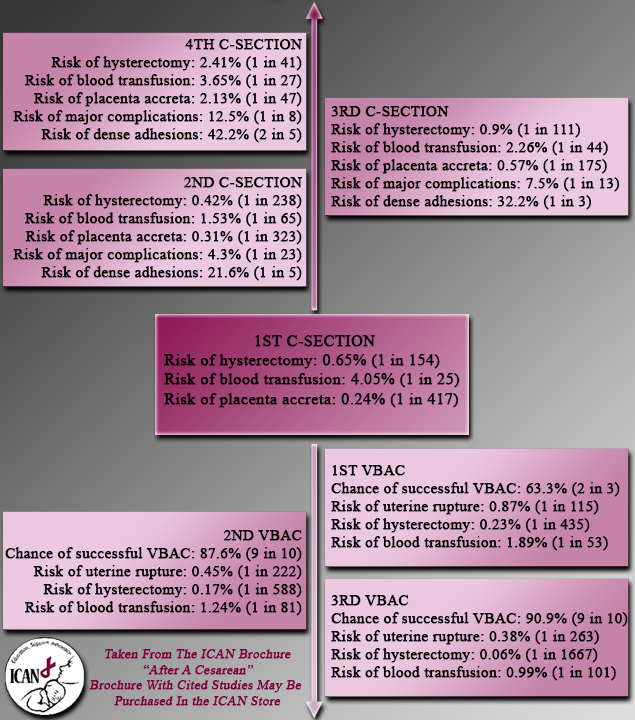 [3]
This content is from ICAN's brochure titled "After a Cesarean." The brochure shows the actual references to the scientific journal articles cited in the original form. What a great way to hand evidence based information to your provider. You can find them at our bookstore located here [3].